The Emergency Broadcasting System
COVID History of Folk (with Swearing!)
Between April 5 2020 and March 28 2021 - I put out 52 episodes of my irreverent history of folk music with lots of side trips into personal stories and any other damn thing that seemed interesting on YouTube.    It helped keep me occupied during the plague year and kept us all in touch which was the whole point.   On almost every episode I did a song which was in some way related to the theme of the show.   I have now taken 12 of the best of those songs and put them out on Bandcamp as "The Episodes"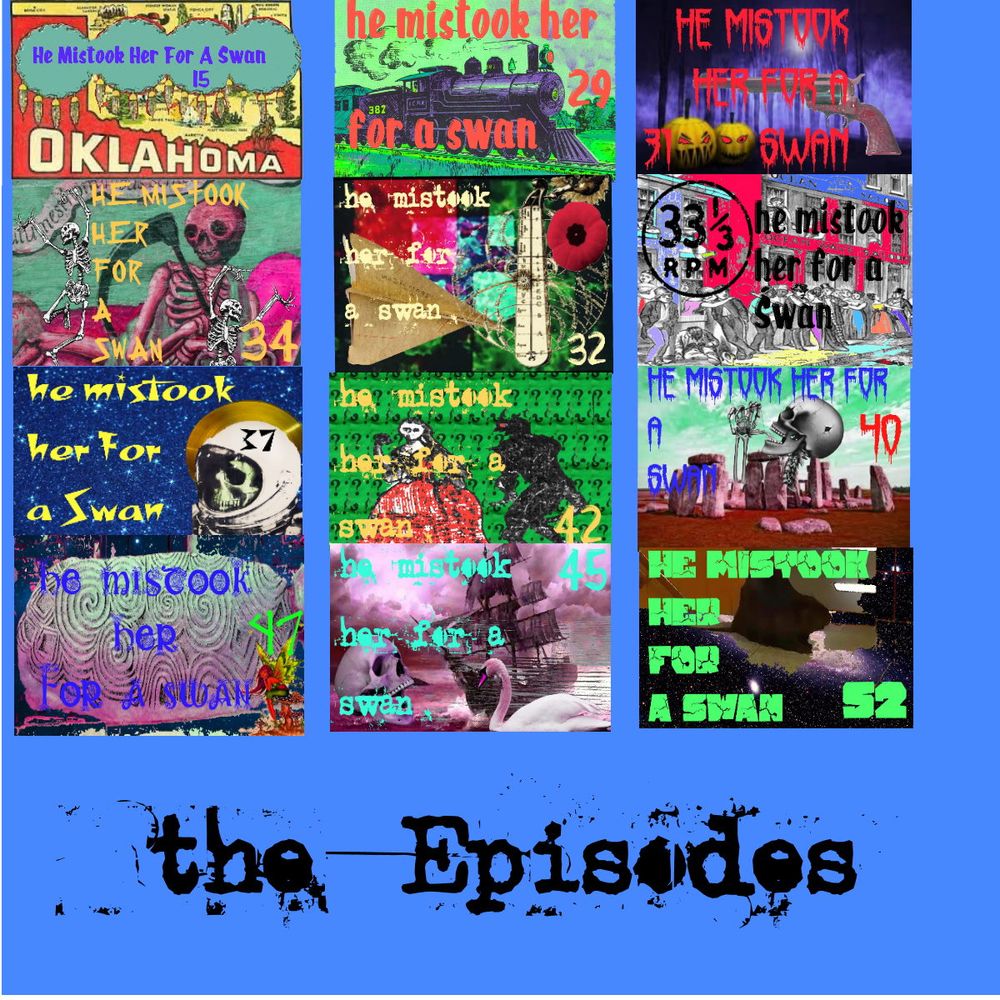 The Episodes
12 Songs from the youtube series
1) Going Down The Road Feeling Bad Episode 15: 07/12/20
Contrary to popular opinion, Woody Guthrie didnt write it, but lets face it, Woody owns this song.   The great dustbowl anthem is a pretty basic song so I was looking for a way to make it a little more interesting.   I was learning Blind Willie McTell's Statesboro Blues at that time which is Vestapol tuning so I thought I'd give that a whirl.   After some experimenting I came up with some curious slightly dissonent chords and voila!
2) Casey Jones Episode 29: 10/18/20
There are lots of Casey Jones songs, most famously the one Johnny Cash does which is directly based on the very oldest versions from the time of Casey.   I was not that keen on doing the popular version of the song cause - well you know... that's just how I am.  Anyway I found this absolutely beautiful instrumental version by Elizabeth Cotton and I was sold.   I had alot of trouble figuring out what she was doing until the 'ah ha!' moment when I realized it had to be in Vestapol tuning.   Once I got that - I was on my way.
3) Stagger Lee in Hell Episode 31: 11/01/20
Unlike some other Episodes where I was never quite sure what I was going to do until Thursday, I knew I wanted to find out about Stagger Lee a full week before.   I read a few books and dug into archival sources.   During my travels through those sources I found a series of 'Toasts' about Stagger Lee and I really loved this one about him in Hell.   I took some of those words, rearranged them and added some music.   And btw - I warned you there would be swearing right?
4) Fishing Blues Episode 32: 11/08/20
After digging into the history of Harry Smith and his epic Anthology of American Folk, I figured it would be good to end the show with the same song he ended his show with.   Fishing Blues was written by Chris Smith in 1911 and has been done by millions of people since.   Its a rambling tune and the changes dont come where you expect them but once you get the feel of it, its a pleasure to play and sing.
5) Frankie and Albert Episode 33: 11/15/20
The murder story of Frankie Baker overlaps with the Stagger Lee story.   It was fascinating to dive into the demi-monde of Kansas city in 1900 and all the shady characters and places.   The song eventually morphed into Frankie and Johnny but the actually recipient of the murder was Albert and that's the way Mississippi John Hurt sang it.   If its good enough for John Hurt, its good enough for me!
6) Dying Crapshooter's Blues Episode 34: 11/22/20
The greatest of all the outrageous blues funeral songs which owe their heritage to the 'Unfortunate Rake' series of songs.  I always loved this song but was a little afraid to try it because it has so many words and changes.   However - no effort is too much for my beautiful Swans so after recording this about 100 times I finally got all the way through it without tripping on my words and I'm pretty damn pleased with myself!
7) Blues for Voyager 2 Episode 37: 12/13/20
So would you believe it?   Alan Lomax - arch Ethno Musicologist (cymbal crash!!) and his buddies send a bunch of folk music into deep space.   How cool is that!   After listening to one of the songs that went into space by Blind Willie Johnson - I just started playing and came up with this tune.
8) John Barleycorn Episode 40: 01/03/21
Full disclosure - probably like alot of you, I first knew this song from the 70's band Traffic and their version.   However after digging into the ancient, gothic and terrifying backstory - I realized that this was a great tune to try.   However I couldnt resist the classic rock ending.   sorry
9) The Devil's 9 Questions Episode 42: 01/17/20
Our first foray into the famous Child Ballads, and what better place to start than at the start with #1.   There are dozens of versions of Child # 1 but I found this American version with the haunting chorus of "sing ninety nine and ninety" really great.   I could'nt find any versions of the song with music that I particularly liked to I made up my own.   Guitar nerd alert!! - its in DAAEAE tuning.   WTF?
10) Leave Her Johnny Episode 45: 02/07/21
We couldnt go through the whole history of folk without touching on Sea Shantys!   And as it happened due to some TikTok nonesense - Sea Shantys were particularly in vogue just then so why not?   After looking around I found a version of this tune sung by the great Stan Hugill and his mates.    For some reason I thought that an electro trash version of the song would be the way to go. (?)
11) Lady Isobel (and the Elf Knight) Episode 47: 02/21/21
Since we already did Child # 1 - Child # 2 seemed like the next logical step right?   There are a millions versions of this song and in most of them poor Lady Isobel meets a grisly end at the hands of the nasty Elf.   However, there are some versions where the lady prevails and stabs the miserable wretched Elf to death and lives happily ever after.   Lets hear it for the lady!   Thats the version I preferred.   Again I couldnt find any versions of the song where the music particularly appealed to my gothic sensibilities so I made up my own.   What do you think?
12) End of the Show Episode 52: 03/28/21
Waay way back in Episode 1, I closed off the show with a ukelele version of a song by my buddy Frank Nevada.   Episode 1 was pretty damn rough and shakey - lets face it I didnt know what the hell I was doing.   However by #52 we had gotten alot better at it and I figured it would tie a nice bow on the series to end with another Frank Nevada song that we used to do at the end our set back in the dark ages.    It was alot of fun to revisit this tune,